Grant Information and Applications
Learn about different grant opportunities available and download the applications applicable to each type of grant.
What Kinds of Grants do We Award?
General Support Grant
These grants are offered to support and enhance the work of organizations that serve the community. General Support Grants will generally not exceed $5,000.
Transformative Grant
Transformative Grants are designed to support initiatives that will (i) significantly expand the scope of an organization's activities; and (ii) will meaningfully contribute to the enrichment of community life.
General Support Grant
Application
This application is intended for applicants who have previously received grant funding from the Ukrainian Community Foundation of Philadelphia. Download the application by clicking the button below. 
Do not use this application if applying under the Transformative Grant Program.
First Time and Transformative
Grant Application
This application is intended for organizations which are applying for the first time or are applying for a Transformative Grant. Please review funding information and confirm that your organization meets the funding criteria and the criteria for application. If you are interested in applying, please download application below and contact us at grants@ukrcfp.org.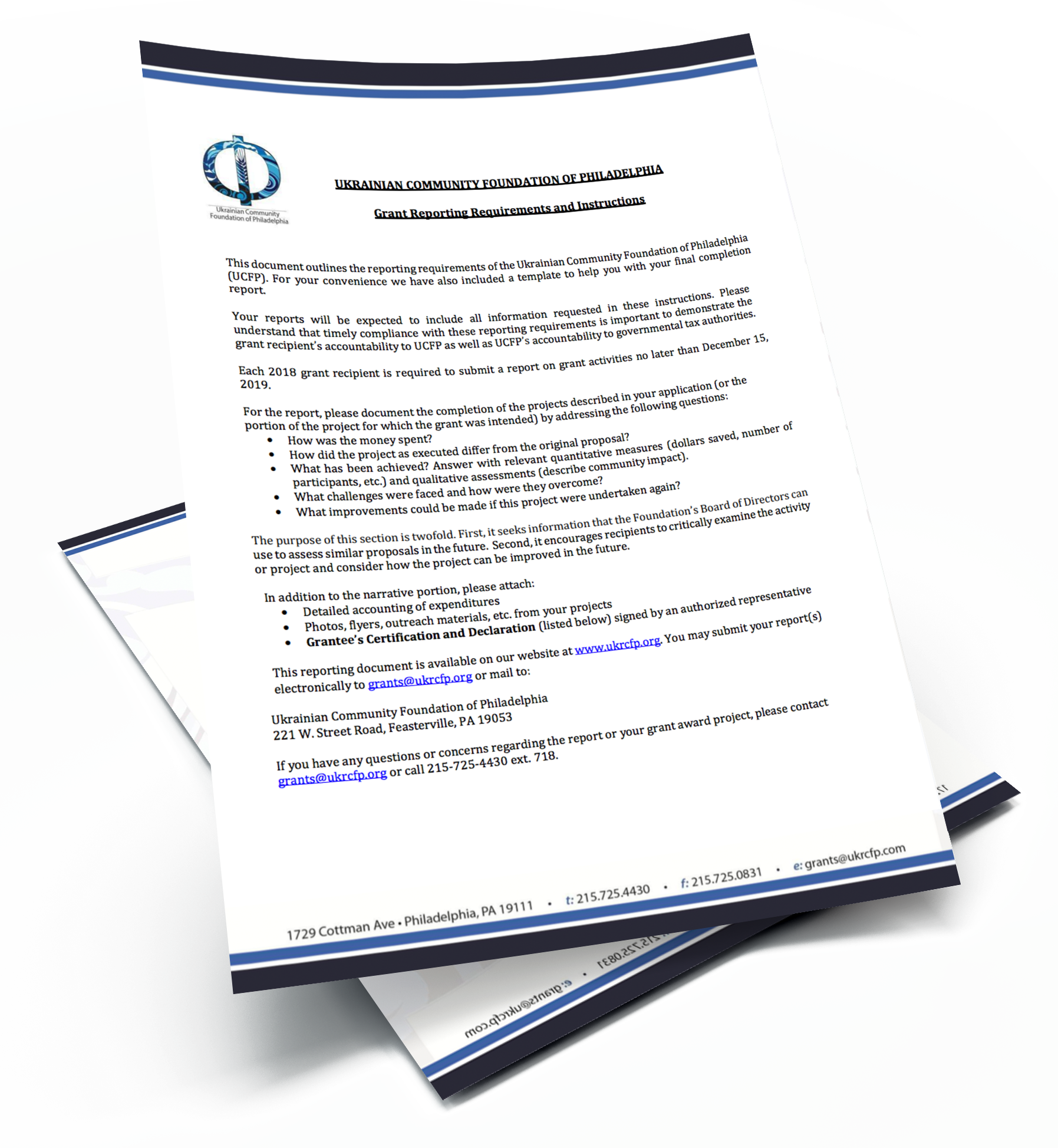 Grant Reporting
Requirements and Instructions
This document outlines the reporting requirements of the Ukrainian Community Foundation of Philadelphia (UCFP) in addition to the actual Declaration Form and Reporting Form.
Your reports will need to include all information requested in these instructions. Please understand that timely compliance with these reporting requirements is important to demonstrate the grant recipient's accountability to UCFP as well as UCFP's accountability to governmental tax authorities.
Please click the button below to download the entire grant reporting requirements and instructions document.
Questions?
If you have questions regarding funding or grant opportunities, please feel free to contact us directly. Click on the button below to contact us now and we will be in touch with you shortly. Thank you!